Home
Indiana Volkssport Association (INVA)
Welcome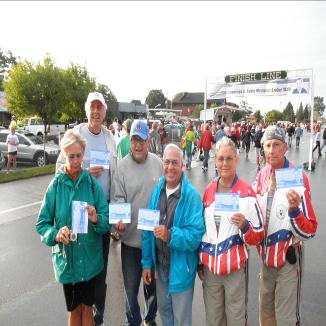 The Indiana Volkssport Association (INVA) promotes the health, physical fitness and well-being of the people of Indiana by organizing, promoting, and conducting scheduled programs of non-competitive, family-oriented participatory lifetime sports.
INVA has been sponsoring and supporting walking, biking, swimming, and cross country skiing events in the state of Indiana since 1985.
Walking, or "volksmarching" is the most common type of event and usually consists of a marked or guided 10 kilometer (6.2 mile) route. Each participant is encouraged to walk at a pace that is comfortable and enjoyable. Volksmarch is a German term, literally meaning "a people's walk". Local clubs host a walk that has been chosen for its natural beauty, scenic interest, historical value and safety. The trails are well marked or maps are provided.
Trails may be in cities, towns, parks, forests, anywhere there is a pleasant or interesting area to walk. Walks may be on city streets, in quaint little towns, through state parks, rugged forests, or anyplace with interesting scenery. Shorter routes are often available for those who desire. Biking and swimming events are occasionally offered as well. Events are always non-competitive, so you can choose your sport and participate at your own pace.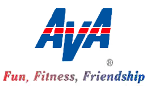 INVA is affiliated with the American Volkssport Association, an organization which promotes walking and other sporting activities for "fun, fitness, and friendship" and the International Federation of Popular Sports (IVV), an international organization composed of national associations and clubs that organizes popular sports (volkssports) events.
Organization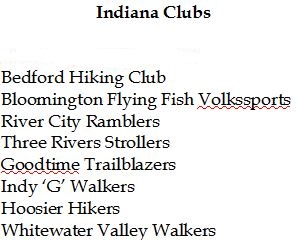 INVA is a non-profit 501(c)(3) organization established as a not-for–profit, voluntary membership corporation under the laws of the state of Indiana exclusively for charitable and educational purposes.
INVA is the state association responsible for coordinating and officially sanctioning all AVA and IVV events in the state of Indiana, including all events sponsored by local clubs in Indiana.
Currently there are eight (8) local clubs operating in Indiana which sponsor Volkssport events in addition to INVA. Events sponsored by these clubs are listed in the "Indiana Clubs" section of this website.
Programs
Indiana DNR/State Parks
Don Vartanian at Lover's Leap at
Shades State Park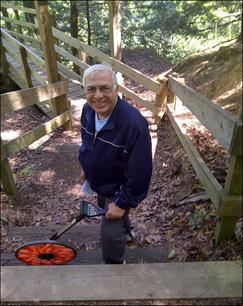 Since 1986, INVA has co-sponsored walks in Indiana State Parks and Recreation Areas with the Indiana Department of Natural Resources (DNR). These walks wander through some of the most scenic areas of Indiana which showcase our state's natural beauty.
The number of walks vary from year to year. In 2012, there were 9 events on DNR properties - four that were sponsored by INVA and five by local clubs (including two year round events). The walks are part of the Governor's INShape program to improve the health and fitness of Indiana citizens.
The DNR header with attached bar as depicted on the right are being sold to commemorate this event and will be available at each walk while supplies last. Each state park or recreation area has a separate bar. This event counts towards the acquisition of IVV achievement awards. IVV record books will be available for purchase at the event. IVV Credit may only be entered into IVV Event or Distance Books.
Links to Indiana Club Web Sites
Bedford Hiking Club
Bloomington Flying Fish Volkssports
River City Ramblers